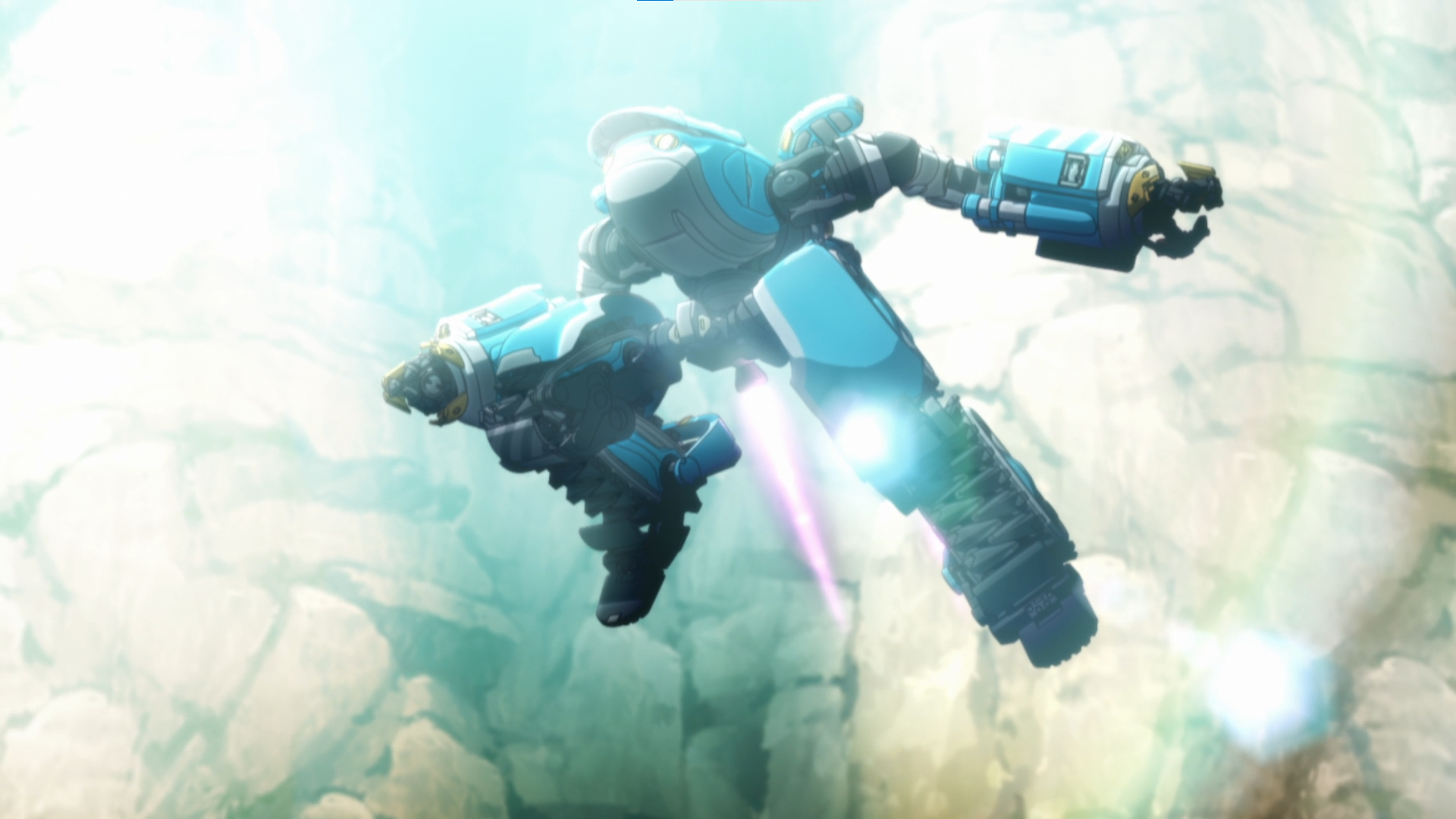 Sakugan ep 2: Don't become a lost child
Episode 2 of Sakugan continues from the explosive and emotional end of episode 1. We have seen how Big Tony works. Like the elders always said:" if something does not work, just give it a passionate whack". And in this case the recipient of the slam is Big Tony, which looks like an antique in a warehouse.
The opening quite surprises and impresses me cause that song was sung by one of the legends of mecha song: Masaaki Endoh-san. The opening is catchy and has a vibe of swing & jazz music but somehow still pop, Masaaki san usually sings strong and hardcore music, his passionate ballad song this time is really unexpected. The ending is also good, Mindaryn does her job very well and this song is suited to Memempu, quite mischievous and young.
In this episode, we can see clearly what Big Tony is capable of and how it rolledl (pun intended). It has wheel foot like the Knightmare Frames of Code Geass, a rope shot like omni-directional mobility gear of AoT, a grenade launcher and the most important thing is the DORIRUUUUUU, which has always been a strong element in the mecha franchise. Also because Big tony is the custom bot so the speed is also faster than the usual ones (of course, it's the Mc's machine after all).
The story is still well developed, which has both action and humor same time but not superfluous. Each action scenes' BGM are very fitting, the trumpet or saxophone sound makes it more fun and makes the viewer feel less serious but also induce excitement. Also, this episode gives us a lot of info about kaiju, at its feet, there are cables to provide power, the bigger kaiju have the more time it takes to dry out and the kaiju attacks with purpose (energy cable with a limit, sounds familiar?). However, with a big brain Memempu and Gagumber skill and a neat trick taken from the Gurren Lagann Guidebook, they can handle 2 large kaijuus on their own. Not gonna lie, lolis these days is too high-handed. Memempu wants to become Marker and Gagumber finally accepts that, they make a promise, even if anything happen, Memempu must remain calm and move forward or she will lose her way, wise word from a dad and experienced man (he definitely used to be a Marker of some sort). With the death of Walsh and Lynda, not only them must get over it but also the rest of their crewmates. The interaction between the Marker team and Gagumbar shows how much he's got riding on his shoulder from this moment onwards, since they have been "expelled" from the colony.
The animation still maintains the high quality in this episode. The action scenes are well-done interlacing with 2d and 3d. Also, Memenpu is cute in every scenes and the background of this ep still gorgeous, especially the last one. Hope the quality will continue maintained in the next episodes.
Overall, episode 2 of Sakugan did a really good job after the first one. The beginning of the story has enough action and characterization to keep the audience continue watching this series. This episode not only has a deep message that the people who are still alive need to get over the death of close friends or relatives or they will be trapped in anguish forever. Even so, the comedic segments are used very cleverly between each scene. Not gonna lie, I really like the Big Tony roll scene lol. But at the end of this episode, we still have a flag between Memenpu and Gagumber, hope that flag won't be activated in the future.