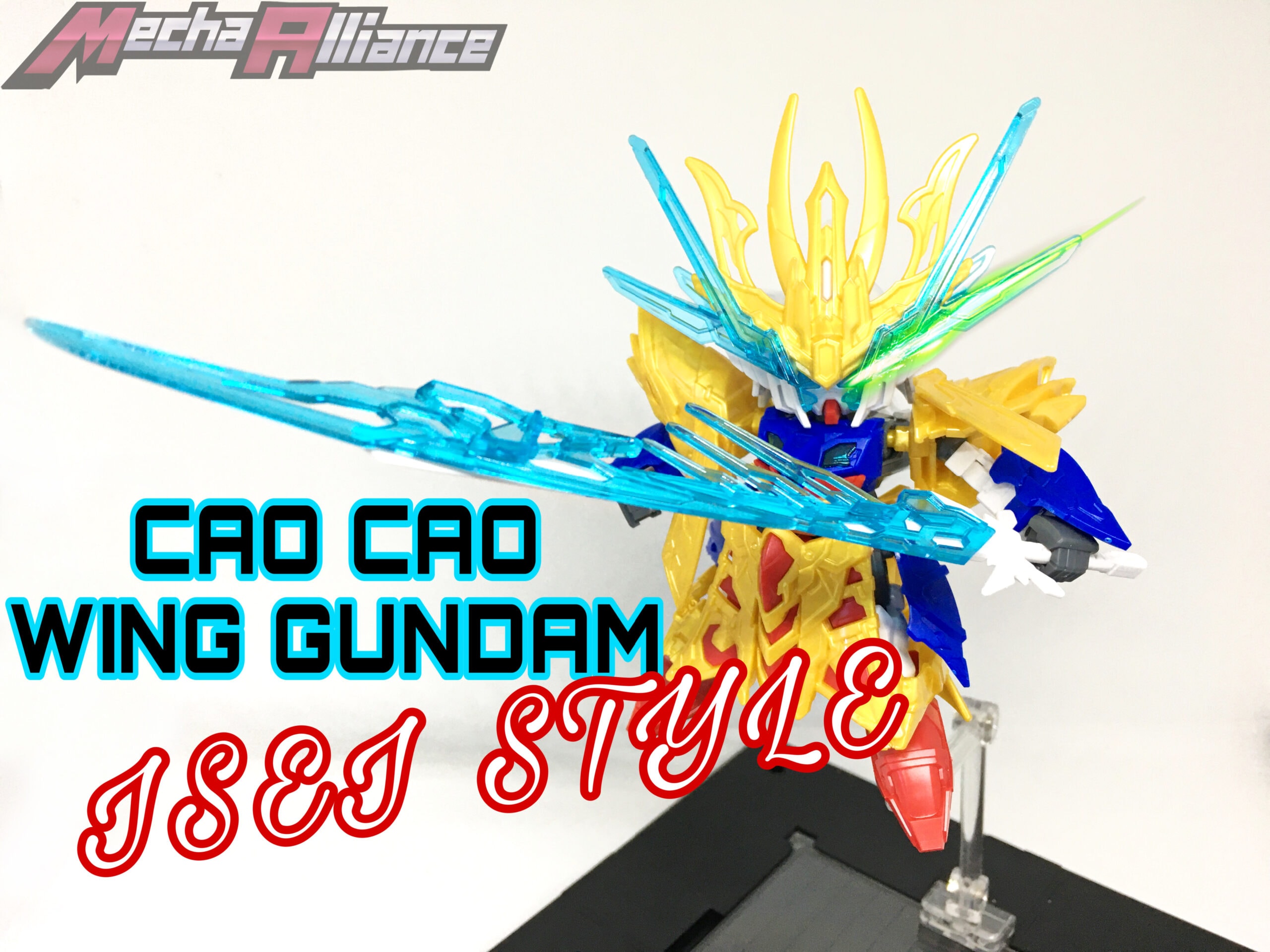 Kit Review: SD World Heroes – Cao Cao Wing Gundam [Isei Style]
Liu Bei has shown me the way.
And now it's my turn to stop you!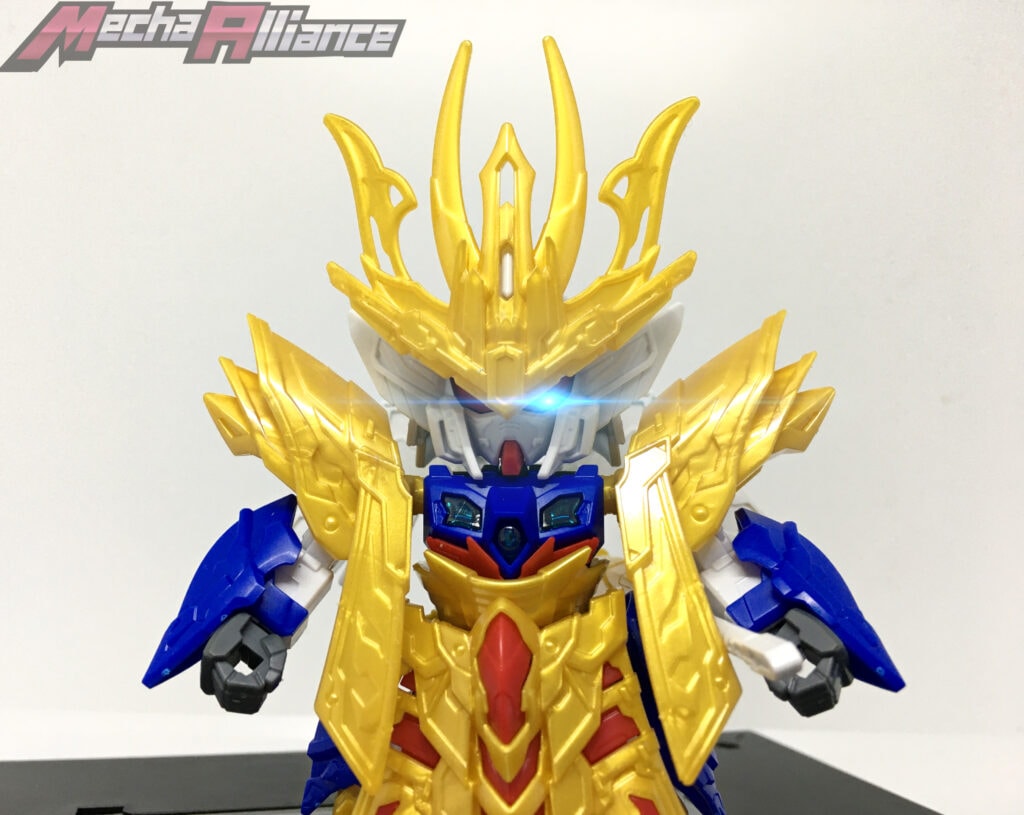 Cao Cao went from a great leader to a misguided anti-hero, to a vagabond and finally a redeemed plot device in SD Gundam World Heroes. Well, it is quite a journey but Bandai made sure he got some upgraded forms to keep him from staying the same throughout the story. In this sense, Cao Cao and Liu Bei are definitely the "favored" characters in the series.

With that said, the Isei Style is Cao Cao's final and redeemed form after he went and a self-discovery journey to learn about the justice that Liu Bei meant. He got granted a mystical sword and finally used it to confronted his past mistakes and came to the light.
+ Design: The Cao Cao Isei style borrow a bit from the Fenice in addition to the usual Sangoku over-the-top warrior armor. His entire body is basically cladded in gold just like a king (well, technically he was one). The V-fin is super exaggerated just like other characters in these historical settings. The front skit is a bit too long for my taste. The wings – which is a reference to the Fenice – is a one-sided double wing, which means there's two wings on the same side. It's also possible to change it to a symmetrical config as well. The sword and the clear parts looks amazing however, really fitting for a "General" look.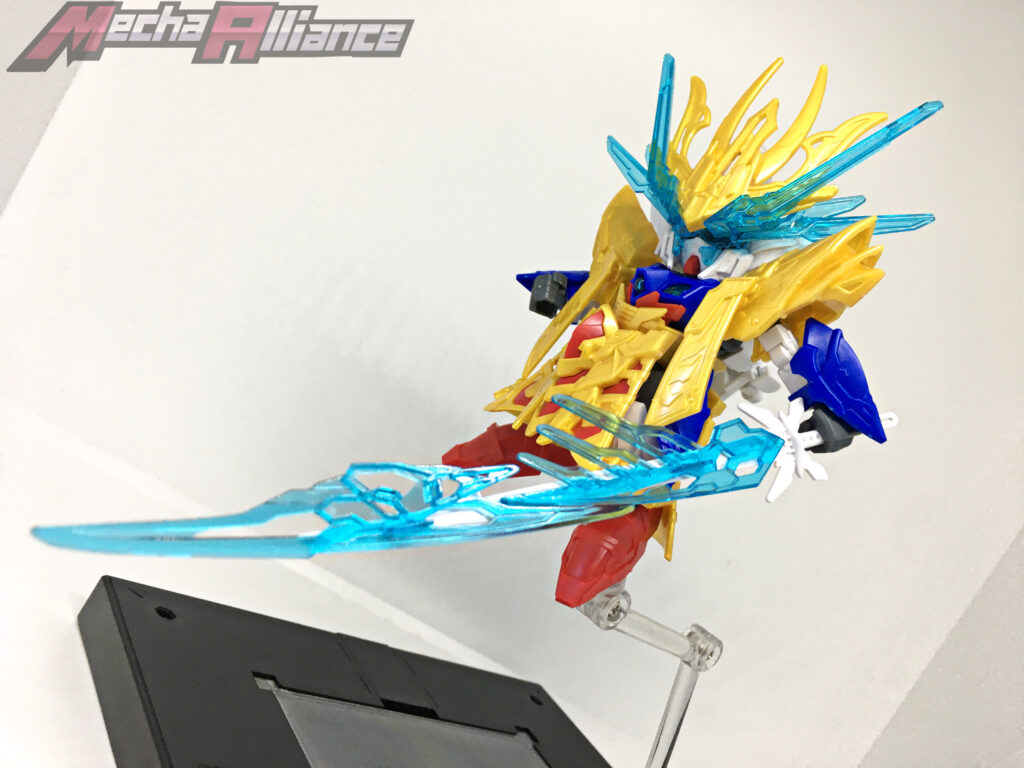 + Build Quality: Simple, straightforward and quickly. Nothing too complex, fast and easy. The parts are organized well on the runners so the parts you need can be located quickly. Not that there's many parts and runner anyway, but it's still cool of Bandai to arrange them systematically. Furthermore, you can pretty much snap the parts off by hand, but I do recommend using tools like normal, and prepare a very sharp knife to trim off the nubs, especially on the blue and red parts, the white and yellow parts are very very easy to process.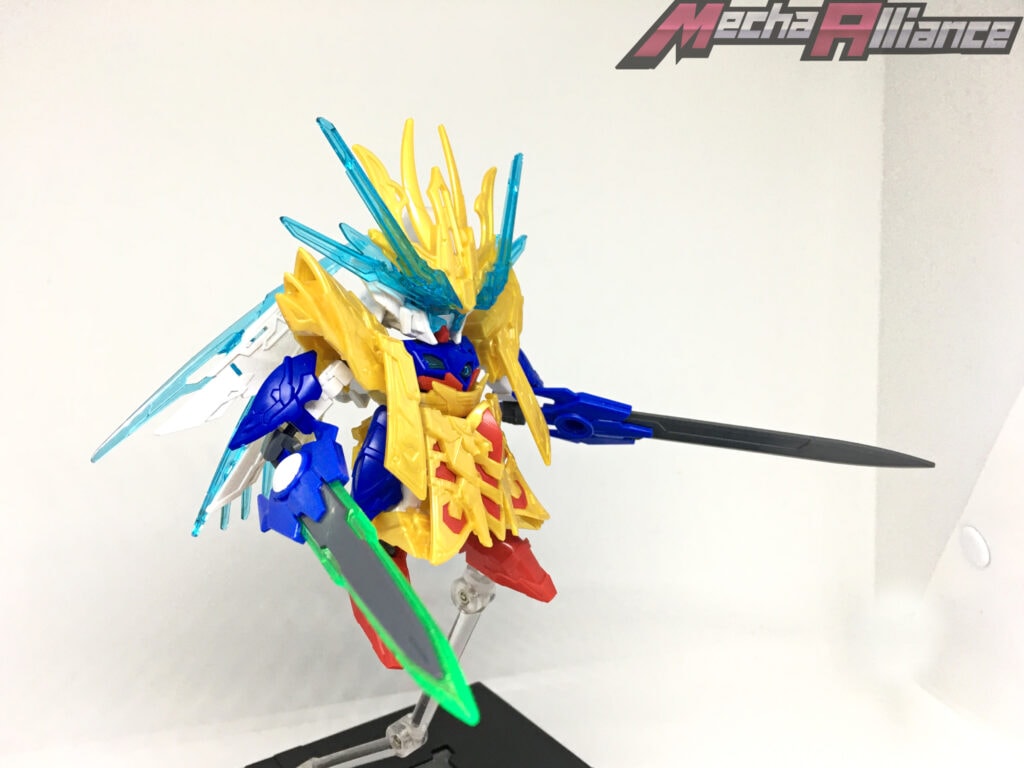 + Articulation: Well, it is an SD – Super Deformed. SD kit don't move all that well. But while older SDs basically have no elbow nor knee joints and no torso joint either, the Sangoku Soketsuden and World Heroes line give you the semi-Cross-Silhouette treatment with working elbows, knees as well as an ab-crunch. Which isn't a lot but still more than enough to pull off some good-looking stances. It isn't as good as SDCS but it's quite impressive compared to other historical SDs. The front skirt can even move slightly out of the way to make room for the legs, which is quite nice.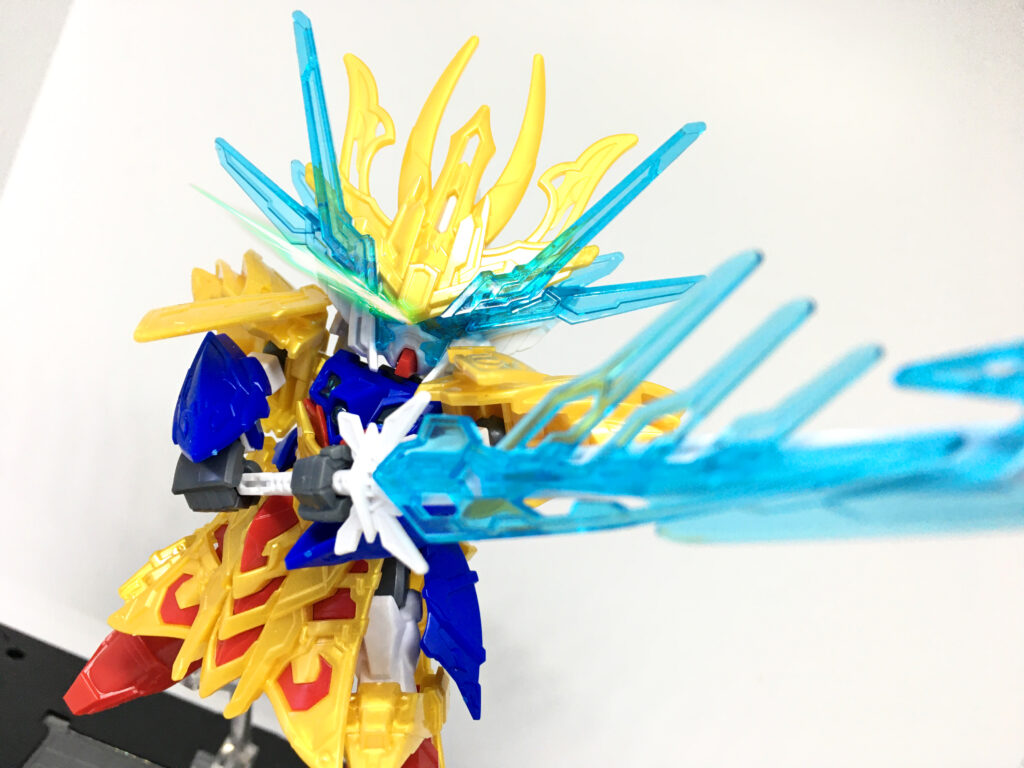 + Gimmicks: There's not much "special" gimmick for this kit. Mostly just the wing able to fold to one-side like the Fenice, which looks quite cool. Furthermore, the sword effect parts can also be attached to the wings to create more of a majestic effect. Overall, the play value is quite nice.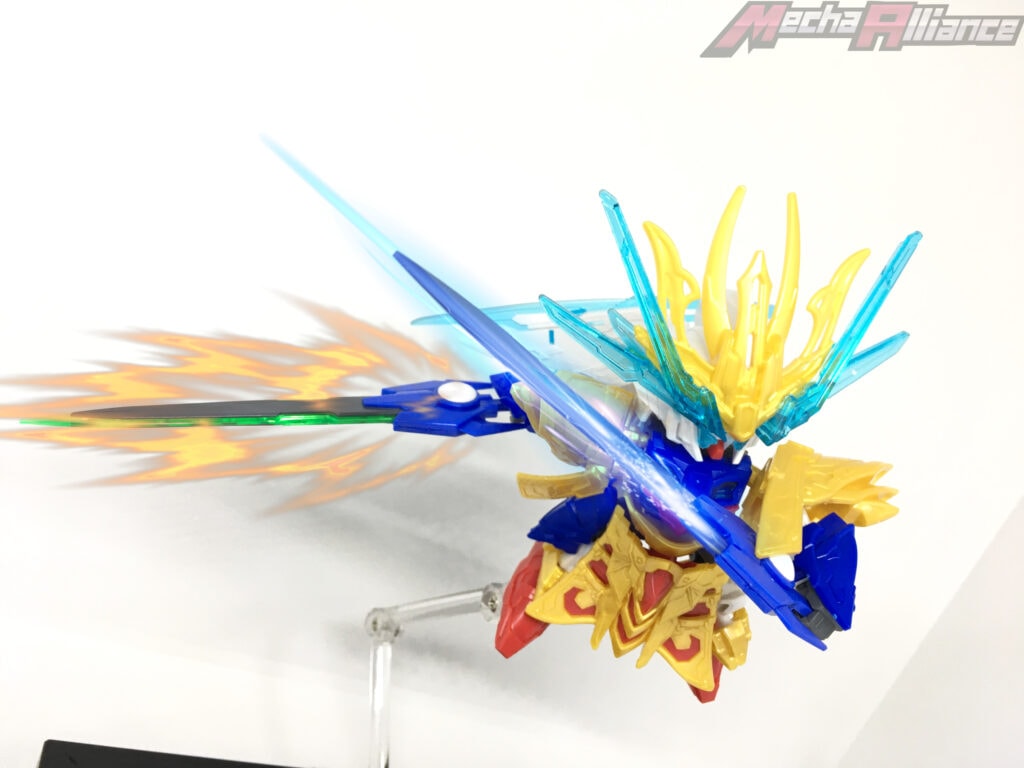 + Accessories: Well this kit is on the above average price point for the usual SD Sangoku kit, so there's a bit to go with him. He comes with blue clear parts to replicate the anime power-up version and stuff, as well as make his sword look even more badass. The eye effect parts really break up the color on the v-fin and makes him look quite nice. His sole weapon is the long sword and its scabbard (not the Amazing Exia parts). There's a few spare parts from the normal Cao Cao as well if you want to use those. Additionally, there's an extension part to attach both the scabbard and side skirt armor to the hips, it does look a bit weird but hey, it works.
+ Conclusion: In essence, this is a very good-valued kit, very bang-for-the-buck. You get what you pay for in terms of plastic, but the kit has very nice playability as well. The fact that these Sangoku kits can move around is quite impressive, not to mention they even have ab-crunch, which is pretty insane. And the sword actually fit a HG, so this is a very nice purchase.